Tue, 22 March 2016 at 5:40 pm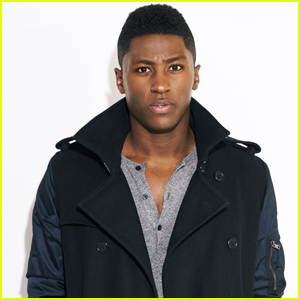 Check out this brand new interview with the super hot and talented Joseph David-Jones!
JJJ caught up with him about his role as Hollis in the new Divergent film, Allegiant, which is now in theaters.
We also asked about his portrayal of Connor Hawke/Green Arrow in DC's Legends of Tomorrow.
It turns out he's Diggle's (David Ramsey) son and we're dying for him to return! There's so much story left to tell there!
Check out our interview with Joseph below!
JustJaredJr.com: First, let's talk about Allegiant! Tell us about Hollis! He wasn't in the books, right?
Joseph David-Jones: Correct. Hollis is a newly added character to the Divergent world for on screen. He is one of the leaders of the Factionless army, a General second only to Edgar (Jonny Weston) in Evelyn's regime. If I could describe Hollis in one word it would be "loyal"! He is completely loyal without question to his leader Evelyn (Naomi Watts) and his best friend/mentor, Edgar.
What was it like working with Shailene Woodley, Theo James, and everyone? Was there someone you worked with most?
JDJ: It was really a lot of fun. It's always great working with a cast of people around my own age, especially shooting in a new city where I don't know anyone. But everyone was extremely welcoming and super down to earth. While I got to hang out off set with most of the young cast, most of my scenes were with Jonny so I think we became the better friends.
Click inside to read the rest of our interview with Joseph David-Jones…
JustJaredJr.com Interview – Joseph David-Jones
JJJ: We hear he has a very interesting outlook on the wall. What's his stance on leaving?
JDJ: Hollis has grown up Factionless, that means he has only lived in a society that has told him he doesn't belong, so I think, for him, the idea that "The Outside World Welcomes You" is looked at with nothing but skepticism. No one knows for sure what they are going to find on the other side of the wall, so once the order is given not to let anyone out, Hollis trusts it and enforces it.
JJJ: What memory will most stick out to you from filming?
JDJ: HA…All those running scenes in the heat! Atlanta is extremely humid during the summer and one week in particular we were shooting a lot of chase scenes, and it was over 90 degrees that whole week! They had to keep spare shirts for everyone on set because after two takes we would all be drenched in sweat.
JJJ: As for Legends, what was your audition process like? Did you know who you'd be playing?
JDJ: The audition process for Legends was interesting to say the least. Everything was shrouded in secrecy and although the audition script described a future archer, the character name wasn't Connor Hawke it was Colin Osprey, a character I had never heard of before and could find no information on. It wasn't until I had booked the role that I found out who I would be playing.
JJJ: We'd loved the character of Connor and there's so much more to explore. Any chance you'll be returning to Legends?
JDJ: Everything is still up in the air, but with Legends getting renewed for a second season who knows what could happen. So I think we all just have to wait and hope this isn't the last time we see Connor Hawke.
JJJ: It would be cool to see him interact with his dad Diggle at some point (maybe going back in time?) or learn more about his father's death. Would that be something you'd want to see as well?
JDJ: I think it would definitely be interesting to see a reunion between John Diggle and Connor, and see what the dynamic of a relationship between the two of them would look like. If Conner was to potentially go back in time, would he tell John he's his Son? Would Connor being there effect the time line, and possibly him being born!? There are so many questions and potential outcomes, so I think we just have to wait and see.
Be sure to follows Joseph on Twitter, Instagram, and Facebook!
Like Just Jared Jr. on FB