Thu, 14 April 2016 at 1:00 pm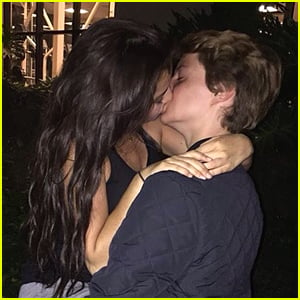 Jace Norman kisses Isabela Moner in this Instagram pic that he has since taken down.
The 16-year-old Henry Danger star was quick to take the pic down just as soon as he put it up — but not before fans copied the pic and showed their support of the couple who starred in Splitting Adam together on the social network.
"So I think we can finally agree that THEY ARE TOGETHER. And I know, I know, I god damn KNOW some normanators or isabela fans will be so upset. But guys- they're happy. With eachother. His happiness is what should truly matter. It sounds so ridiculous but it's beautiful in a really not cheesy way //:: lol. I'm so ????????????. Parents. And on Jace Day! Perfect way to end how much drama has been going on in our fandom. Lots of love!" one fan wrote.
Another added, "Omg! Omg! I 'll give you a heart attack! JACEBELA is REAL. boys in the cerium support in their relationship. Yes! Is big kiss ????????. #jacebela is life I love them guys. #couple. #jacenorman. #isabelamoner ???????????? aww."
"So it's for real now???????? i'm really happy for them!! I didn't think me and jace would end up together anyways, so i'll just be happy for them!! I can still love him the same, he is amazing and a good actress???? Let's just stay strong???????? and don't change the fact that we still love @jacenorman7 and @isabelamoner," another fan wrote.
WHAT DO YOU THINK of Jace and Isabela together?

DaiLy mAkEuP RouTiNe – Jace & Isabela
Like Just Jared Jr. on FB