Mon, 18 April 2016 at 3:45 pm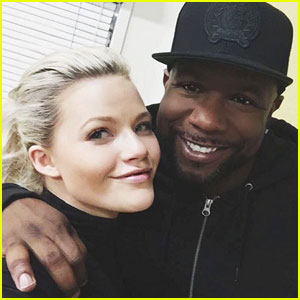 Every week, professional dancer Witney Carson will be writing a blog for JustJaredJr.com and sharing exclusive behind-the-scenes photos ahead of the Monday night episode of Dancing With the Stars.
For week five, Witney opens up about Switch-Up Week as she dances with Boyz II Men singer Wanya Morris instead of her usual partner, Denver Broncos football player Von Miller!
"Let's be honest I really don't like Switch-Up Week," Witney writes. "I think it's weird to drop everything with your actual partner and switch partners right in the middle of everything. But, this week was so fun! I loved getting to know Wanya and dancing with him. Even though I missed Von, I enjoyed the process of having a different partner for one week – which I can't believe I'm saying!"
Don't forget to vote for Witney and Wanya using 1-800-868-3412, and Lindsay Arnold and Von using 1-800-868-3411!
Click inside to read the rest of Witney Carson's blog…
"Wanya made switch up week good for me and I'm so happy about that. I learned so much and I hope Wanya learned from me as well. Von was with Lindsay this week and I can't wait to see what they have! I know Lindsay will create a great routine and Von will try is hardest to be the best dancer he can be! Von, you're coming back to me, don't get it twisted!"
- Witney
Like Just Jared Jr. on FB