Mon, 30 May 2016 at 12:30 pm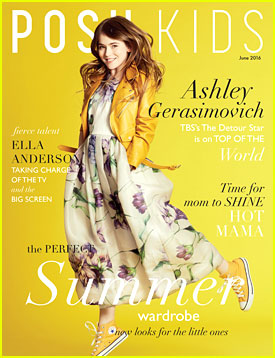 Ashley Gerasimovich is jumping for joy on the June 2016 cover of Posh Kids.
The 12-year-old Detour actress opened up about her personal style, working with Natalie Zea and more. Check it:
On her style: "For the most part, I'm a jeans and t-shirt kind of girl. I also love my combat boots, I wear them all the time. I am a bit of a tomboy, but I really love getting dressed up for premieres and events! I love the different designers and the dresses I get to wear."
On one thing that surprises people: "I think one thing that would surprise people is that I am a total science nerd! I love chemistry and doing experiments. I am actually growing crystals right now!"
On The Detour: "I absolutely love Natalie Zea, she was amazing to work with. I learned a lot working with her on The Detour. She is so professional and learned how to remain focused on the scene by watching her. Even though the scene was super funny, she never laughed until it was done, and that helped me also. Working on The Detour has been the most fun job I've had so far! Jason [Jones], Natalie and Liam [Carroll] became like family to me, we all grew really close. I feel very grateful and lucky to work with them."
The Detour season one finale airs TONIGHT, May 30th @ 9PM ET/PT on TBS.
Like Just Jared Jr. on FB