Mon, 13 June 2016 at 4:20 pm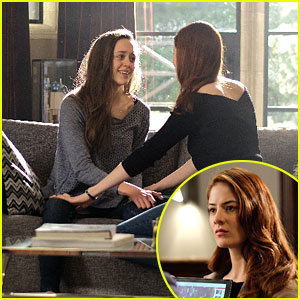 Grace (Daisy Head) is happy to see her sister Natalie (Emily Tremaine) in this new still from the series premiere of Guilt.
The definition of guilt is being responsible for wrongdoing or a crime. In the murder of Molly Ryan, many are guilty in different ways, but only one is truly guilty of her murder.
When Natalie's sister Grace becomes the prime suspect in her roommate Molly's murder and a popular target for the press and in social media, Natalie leaves her life in Boston and heads to London to defend her.
With the help of an ethically questionable ex-pat lawyer Stan Gutterie (Billy Zane), Natalie starts to question how innocent her sister may really be as more ugly truths start to emerge. The investigation twists through many layers of London society – from a posh but depraved sex club, all the way up to the Royal Family itself.
Guilt premieres TONIGHT, Monday, June 13th @ 9PM ET/PT on Freeform.

Guilt Sneak Peek: Molly

Guilt Sneak Peek: Prince Theo
Like Just Jared Jr. on FB