Tue, 28 June 2016 at 7:00 pm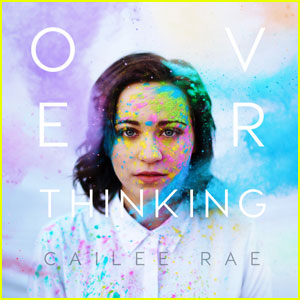 Get to know the lovely and talented Cailee Rae!
The 16-year-old singer just dropped her EP Overthinking, which you should pick up now on iTunes! We can't stop listening!
Cailee also shared 10 fun facts with us! Check them out:
1. I am 16 years old! My birthday is March 2nd, 2000. PISCES all the way!
2. I am horrible at sports. One time I tried volleyball and when the coach used me as an example for practice, the ball slammed me in the face and broke my glasses!
3. When I was in elementary school, I made a music video to "Tik Tok" by Kesha and uploaded it to YouTube. I have searched for it many times but I think I made up a weird YouTube name so I cant find it! I don't think it's mean to be found, haha.
4. I originally wanted to be a veterinarian because I thought being a singer was just impossible. When I was 10, my sister heard me sing and asked if we could "record" it for fun. We went into her room, opened up GarageBand and I sang "If I Die Young." Now I say to always dream big because nothing is impossible.
5. When I was super little I was OBSESSED with Peter Pan. I think I watched the cartoon and movie a million times. (I may or may not have kissed the screen.)
6. I'm super super clumsy. I'm always falling all over the place. Hey! Sometimes the ground needs a hug, okay?
7. I overthink EVERYTHING. It's a bad habit but I cant help it. That's why I named my EP Overthinking.
8. I used to be terrified of singing in front of people. There is this video of me in my elementary school talent show. I'm singing Miranda Cosgrove's "About You Now." I'm wearing a pink and black fedora with a pink paris skirt, and I'm awkwardly standing there hand gesturing the words…enough said!
9. I love doing make-up and hair on myself and my friends. It's my secret hobby. I make my sister Bri let me do her makeup all the time. LOL.
10. I'm obsessed with sloths. One time on vacation, my parents surprised me with a baby sloth named Mocha. I cried.
Bonus fact – I'm obsessed with food. My favorite food is soup dumplings. SO GOOD AHH.
Like Just Jared Jr. on FB