Sun, 07 August 2016 at 1:30 pm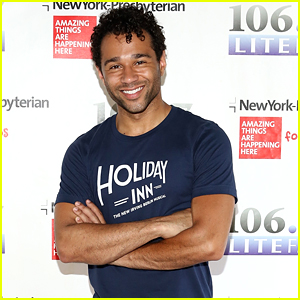 Corbin Bleu steps out for 106.7 LITE FM's Broadway in Bryant Park event on Thursday (August 4) in New York City.
The 27-year-old newly married actor joined his Holiday Inn co-stat Lora Lee Gayer in performing some of the tunes from his new play.
He'll play Ted in the play, which centers on Jim, who leaves the bright lights of show business behind to settle down on his farmhouse in Connecticut, but he quickly discovers life isn't the same without a bit of song and dance and that his farmhouse is boring. Then, when he meets Linda, a spirited schoolteacher with talent, they turn the farmhouse into a fabulous inn with dazzling performances to celebrate each holiday, from Thanksgiving to the Fourth of July.
But when Jim's best friend Ted tries to lure Linda away to be his new dance partner in Hollywood, will Jim be able to salvage his latest chance at love?
Corbin is also pictured with Megan Sikora at the press preview at Midtown Rehearsal Hall on Wednesday (August 3).
Like Just Jared Jr. on FB