Mon, 08 August 2016 at 2:30 am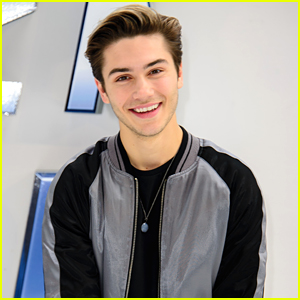 It's been months since George Shelley left Union J, and he's opening up about what happened in a new interview.
Speaking with Fabulous mag, the 23-year-old musician also opened up about coming out as bi-sexual, and his new radio job. Check it:
On his new radio job: "I'm having the best time. The 4am wake-up calls are gruelling because I used to be such a night owl, going to bed at 3am and getting up at 2pm. I spent the first two months feeling jet-lagged but the adrenaline kept me going. I feel like I left one band and started another with Dave and Lilah."
On the support after coming out as bi-sexual: "They [the fans] were really supportive. There's nothing else they can know now about me, which feels really liberating. I knew I'd have support and found comfort in that. Tom Daley messaged me afterwards and said he was really proud of me. Fans have told me that I gave them the courage to come out to their own friends and family, which is special. I just said: "Love who you love."
On always knowing his orientation: "I think I always knew, I just became more comfortable with it. At that point I was coming out of the band and standing on my own two feet. I would never come out as gay. I wouldn't put a label on it because I do like girls, I've fallen in love with girls and I could never close that off.
On still being close to Union J despite the split: "It was mutual. I had – no, we all had – other opportunities and it came to a point where we had different visions…I texted JJ on his birthday recently and saw Josh in the street the other day and we hugged. Jaymi is my closest friend from the band and we speak a lot. He came to Capital the other day and we went for a walk and had a little chat."
Like Just Jared Jr. on FB