Mon, 24 October 2016 at 3:57 pm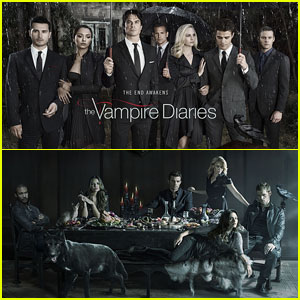 Are you also still holding out hope for another crossover between The Vampire Diaries and The Originals? We may be in luck!
While a full episode may not happen before the former show comes to an end, Executive Producer Julie Plec has hope that we will see some crossover, even given the current timeline differences.
"[The timeline shifts] actually made it extremely easy, much to the chagrin of the people I'm sure would have loved multiple crossovers before the series comes to a close," Julie told ET. "But I do think the final episode will have some time-shifting, so I'm not worried about being inhibited from seeing The Originals again in The Vampire Diaries universe. I don't know how or who, but I certainly think we can make it work on some level."
What about Vampire Diaries characters showing up in the French Quarter after the show ends?
"A thousand percent," Julie said. "One of my goals is to find really exciting and organic ways to combine the universe just a little bit, whether it's a flavor or something more aggressive. There are a lot of really wonderful people that I work with that I'd like to continue working with, so it's certainly not out of the question that we could find ways to integrate them into The Originals."
DO YOU WANT to see another TVD / Originals crossover?
Like Just Jared Jr. on FB