Mon, 28 November 2016 at 11:37 am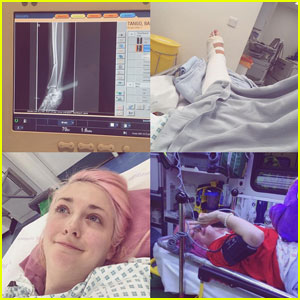 We are so happy to hear that Noodlerella (Connie Ella Glynn) is okay after getting hit and run over by a car!
The 22-year-old YouTube beauty blogger explained the scary incident on Instagram with photos of herself in the hospital.
"Oh boy am I a cautionary tail right now!! I got back from San Francisco at about 2pm yesterday then went for a walk outside my flat and managed to LITERALLY GET RUN OVER!!!" Noodlerella wrote. "The car came from the side and knocked me down then the wheel went right over my leg ARGH!!! no matter how old you are or how many times you cross the road you need to be SO VIGILANT! I'm incredibly lucky that only by leg got broken, and I'm counting my blessings honestly! I'll keep you guys updated over on Twitter as I'll likely be having an operation today or tomorrow. Stay safe everyone."
She got a bunch of visitors in the hospital and is currently preparing for surgery on her leg.
Noodlerella wrote, "Greasy hair and happy grins Ohohohooo good news!! I am officially getting operated on tomorrow and apparently after I get the metal rod in my leg I'll be walking around almost immediately I CANT WAIT TO BE ABLE TO WALK AGAIN!!!! I'm a bit nervous about the surgery but mostly excited to be better again when it's done seriously can't wait to tell you guys properly about this whole ordeal, it's been wild."
We're sending well wishes to her on a speedy recovery!

Noodlerella's Latest Video
Like Just Jared Jr. on FB