Mon, 28 November 2016 at 7:59 pm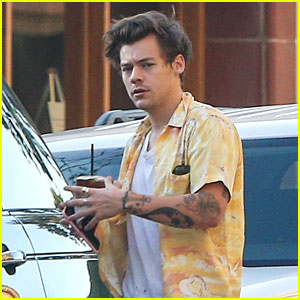 It looks like we can expect some Harry Styles music in the future – because he's apparently working with some big names!
In a recent interview, British pop star Robbie Williams revealed that he found out Harry is working with hitmaker Max Martin and singer Bruno Mars.
"Last year I tried to work with Bruno Mars – didn't hear anything back. Tried to work with Max Martin – didn't hear anything back. They literally didn't return my calls," Robbie said (via the Belfast Telegraph). "Then I met Harry Styles in an airport. 'Oh, you're writing, Harry? Great, who with?' He goes: 'Well, I just spent a week with Bruno Mars, and I'm about to spend a week with Max Martin.'"
"I think Harry Styles has beguiled the whole world just by being Harry Styles. He's got a David Beckham-style quality. So he's won in that regard," Robbie added. "There's a space for him but the music has to be great."
If you don't know Max Martin's work, he's working with some big names including Taylor Swift, Katy Perry, Britney Spears, Maroon 5, Ellie Goulding, Celine Dion, The Weeknd, Ariana Grande, Christina Aguilera, and more.
So, according to Robbie – be on the lookout for some amazing new Harry music!
Also pictured inside: Harry stopping by a cafe to grab a coffee last week in Los Angeles.
Like Just Jared Jr. on FB