Fri, 30 December 2016 at 6:55 pm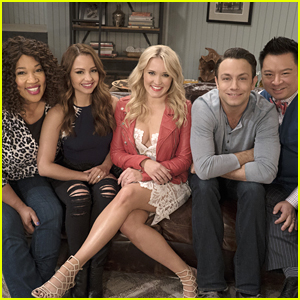 Okay, let's talk about Young & Hungry.
As one of our Top 10 TV Shows of 2016 — we are anxiously waiting the Freeform comedy's return this coming spring and spoilers are surrounding us!
On top of Emily Osment wearing a wedding dress in this pic with guest star Betty White, Jonathan Sadowski (Josh), was getting us all hyped about the new season on Twitter without revealing one single thing!


Here's what we know:
– Betty White is guest starring
– Gabi and Sofia are getting their friendship back on track
– Gabi and Josh might be actually in a relationship in season 5 (WOOHOO! No more breaking up you two!)
– Elliott actually liked fostering a child, so maybe there's a possibility of a kid on the show after all?
– Still no word on the spinoff which would center on Sofia (we're bummed on that!)
So what did Jonathan reveal? Pretty much nothing except these two gems:
(on Josh and Gabi's future)
Jonathan, give us more please!
Young & Hungry will return in the spring on Freeform.
Like Just Jared Jr. on FB