Mon, 13 February 2017 at 2:40 pm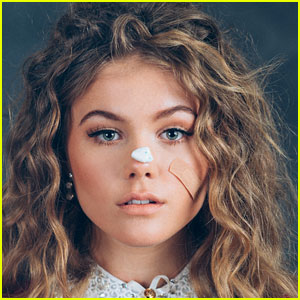 Singer Kerri Medders is dropping her new single "Who R You?" on Thursday (Feb. 16), but she gave JJJ readers a listen to the full song today!
Kerri sat down with JJJ to talk about why this song is so meaningful to her, how it's a side of her you've never seen before and how she came up with the art concept.
JJJ: Tell us about "Who R You?"
Kerri: I wanted to create a song with a bit more of a rock vibe, different from what I've done so far. This song represents how there are so many pressures on 'what you need to be,' when actually who you truly are is so much more interesting and electrifying. Don't worry about pleasing people or changing for who you think the world wants to see. You are what the world needs.
Click inside to be the first people, ever, to hear "Who R You?" and Kerri gives more exclusive scoop…

JJJ: How do you relate to the song on a personal level?
Kerri: I actually wrote the song about a kid I knew. When I first met him, I saw something so special. I saw the potential inside his eyes, it was like lights beaming through. Months later I saw him and the light was fading. It made me sad to see him changing to fit into something he thought he had to, instead of living out his true potential.
JJJ: You came up with the art concept, what inspired you?
Kerri: I'm super inspired by bad yearbook memes as well as how 90′s rock and punk bands would put out artwork that was a little more comical and different then what the music was.
JJJ: And what's on your face in the photos?
Kerri: It's actually gum on my nose! And the Band-aid is just odd, I love it.
JJJ: Who R You in five words?
Kerri: "Don't change to please people."
JJJ: Where's the best place to listen to this song?
Kerri: Driving down the freeway with the windows down, blasting it out into the universe. OR a dance party in your bedroom!
"Who R You?" Will Be Available on iTunes on Thursday, February 16
Like Just Jared Jr. on FB