Mon, 20 March 2017 at 12:08 pm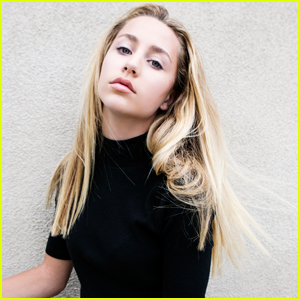 Get to know the the talented Eden McCoy!
The 13-year-old actress stars as feisty Josslyn Jacks on the ABC daytime drama General Hospital, which airs Monday through Friday @ 2PM PST.
"General Hospital is the longest running soap opera in production and it is an honor to be a part of it!" Eden told us." Because we are on every day, I feel like we have a special connection to our viewers and they feel especially close to us. I love reading the tweets and messages from our fans letting me know exactly how they feel about what's going on in our story lines."
"Josslyn is an amazing character with a lot of depth – she is a teenager just coming into her own and struggling with a broken family, a step father who is a mobster, and the death of a beloved brother," Eden said. "There's a lot going on for her right now!"
Check out 10 fun facts Eden shared with us:
1. I have never had a salad and I don't want to try one.
2. I compete in beach volleyball tournaments almost every weekend.
3. I am obsessed with dogs – ALL dogs.
4. I go to an all-girls school and my friends are my everything!
5. My favorite show ever is 30 Rock. I've watched every episode at least 10 times.
6. I can't dance. At all.
7. Pasta is my favorite food.
8. If I could be anywhere I would choose a tropical beach.
9. I love scary movies. The scarier the better.
10. I could spend literally 10 hours in Sephora. I love makeup!
Like Just Jared Jr. on FB