Sat, 25 March 2017 at 12:07 pm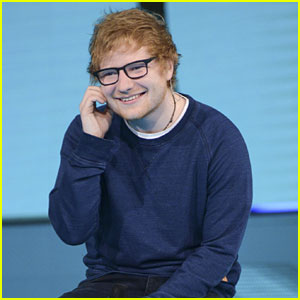 By now, you can sing along to Ed Sheeran's new album, Divide, and not mess up one word.
Even better? You probably know all the stories behind all of the songs, too…but probably not this one.
Last night, Ed performed "What Do I Know?" for the Red Nose Day special for Comic Relief, and it's a song that seems to be ignored by the many, but it's actually really inspiring.
"My dad said getting into the music industry is like you never mention politics, you never mention religion and you never get involved in other people's battles," Ed shared about the track. "The couple of times I have gotten involved in other people's battles, [I regret it] massively."
"I remember speaking up on one thing and I was just sticking up for one of my mate and it just [blew up] like 'Wait woah, woah, woah, I'm not on anyone's side here. I just had an opinion, you can't have an opinion.'"
He adds, "The song was an immediate reaction to loads of s*** that was happening last year and you know I'm not hugely out as a political person and I don't want to be. I'm a singer and I know if I had a political opinion people would be like 'shut up mate and sing your song'."
Click inside to know more about the story of Ed's "What Do I Know?"…
"That the song 'What Do I Know' was me looking at the world and being like 'we aren't doing too well are we' and writing a song about it…" Ed explains of why he decided to actually record it and put it on the record.
"My whole mantra in life is always 'love is everything.' I love, love. I love when people are happy."
"My whole point of this song was basically not to say everyone, everything is going to be ok, just love can change everything," he says. "'Love can change the world in a moment, but what do I know.' It was being able to say everything political that I wanted to say."
Like Just Jared Jr. on FB