Fri, 07 April 2017 at 4:37 pm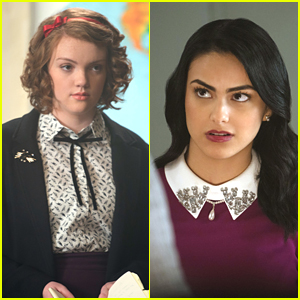 We are so glad that Riverdale is back!
We are even more glad that Veronica and Ethel's cute friendship survived it all and was actually one of the most important storylines there.
In the episode, after Ethel (Shannon Purser) reads a dark poem in class, Veronica (Camila Mendes) gets to the bottom of what inspired her words and she finds out that Ethel's home life isn't so great at the moment.
So what does a friend like Veronica do? She spends some time with Ethel, which is cute, even if you're asking why.
Ethel reveals to Veronica as well as Betty, Kevin, and Mrs. Lodge about her father's financial troubles, her parents' fights, and how they have to sell their house.
Want to find out what else went down with Veronica and Ethel on Riverdale? Click inside…
And it turns out that Mr. Muggs invested with Hiram Lodge, and probably lost everything when he was arrested…and when Veronica finds this out, she's insanely mad at her father.
Still on her mission to turn Ethel's sadness to a bit of happiness, Veronica overcompensates and tries to give Ethel a ton of clothes, which are mostly from her dad. But, Ethel doesn't want gifts – she just wants to be friends.
The next day, Veronica finds out about Ethel's dad swallowing a bottle of sleeping pills and panics, running into the bathroom in tears. She stares at herself in the mirror and rips off her pearl necklace, just before Betty comes to the rescue and calms her down.
And when Veronica decides to do a kind thing and bring flowers to the hospital, it gets worse. Ethel's mom knows exactly who Veronica is and lashes out at her. Veronica decides there, and tells her mom later on, that she won't lie for her father anymore.
Go, Veronica!
Here's why we love Veronica and Ethel's friendship: It's real!
Veronica is haunted by her dad's illegal activity and knowing that Ethel suffered from it, wants to make it up to her. Which is sweet, but Ethel understands that Veronica is not her father.
She tells Veronica that she's not to blame for what her dad did, and that Veronica was there for her when no one else was.
More Veronica and Ethel please!
Like Just Jared Jr. on FB