Mon, 17 April 2017 at 8:00 pm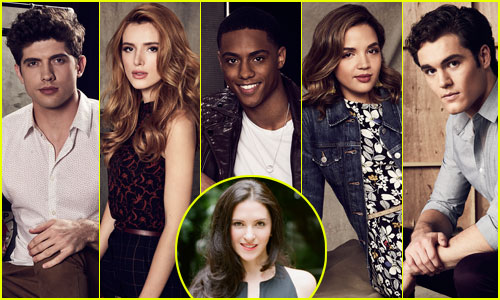 One of the hardest things to do when adapting a book into a television series has to be casting the right people for those beloved roles.
Famous in Love author Rebecca Serle, who also developed the series for Freeform, was very involved with choosing which actors would play which characters on the show.
"That was the hardest part for me, was casting," Rebecca told us when we recently sat down with her. "It was really tough because at the time, I had lived with these characters for six years before anybody else really got involved, so it was hard for me to see other people as being them."
She added, "Bella [Thorne] was different because we had sent Bella the book first and she loved it. And that was a year and a half before the book even came out. I had her in my head for a long time as Paige. So there's no separation between Paige and Bella."
"We ended up with such a great cast. We had amazing casting directors and there are so many people who are involved in the casting process," Rebecca said. "I just feel really grateful. I don't know how else it happened other than luck and having really great people involved."
"When a character comes to life, they become more complicated," she explained. "Just by the reality of breathing, and living, and talking, and walking, and moving. I think sometimes there were discrepancies where I'd be like "Whoa, whoa, wait." But as soon as we had the cast at our first table read, I was like "Oh yeah, this is it." It just felt good to me. They are all such good people and they get along with each other so well. It's great."
Click inside to find out what Rebecca told us about each castmember…
Here's what Rebecca told us about each castmember:
Bella Thorne (Paige)
"Bella is really funny. She makes me laugh a lot. I was actually just going through my phone, trying to pick pics from set and stuff, and I found all these videos of just her mouth in my camera. She's funny and ridiculous."
Georgie Flores (Cassandra)
"Georgie is the sweetest, but is also very funny. She's very witty and very smart."
Carter Jenkins (Rainer)
"Carter is a total flirt. He's the most charming person on the planet."
Keith Powers (Jordan)
"There's no nicer person on the planet than Keith Powers. No one. He is such a sweetheart. He is the best. And totally unfazed. There's nothing you can do that fazes him. Cool, calm, and collected. Heart of gold."
Charlie DePew (Jake)
"Charlie is like a puppy dog. He's full of energy. By the way, he's doing a million things. He has a company he's building. I feel like our show is the thing he does on the weekends to fill his time (laughs). He's going to be President and take over the world. He's just amazing."
Perrey Reeves (Nina)
"Perrey is such a pro. She's so professional. She really knows what she's doing and I think she was a helpful, grounding force for our young cast."
Niki Koss (Alexis)
"Niki is…I call her my 'little' like we are sorority sisters. She is my little and I'm her big. We are essentially the same person. She's my mini-me. And she's so good as Alexis. You just love to hate her. She's so good."
Pepi Sonuga (Tangey)
"Pepi is an amazing singer. She's incredibly talented and is one of the kindest people I ever met. Truly a good person. She's so beautiful."
Famous in Love premieres Tuesday, April 18 @ 9/8c on Freeform.
Stay tuned for more from our interview with Rebecca Serle!
- Reporting by Sharon Tharp (@sharontharp)
Like Just Jared Jr. on FB