Thu, 20 April 2017 at 2:45 pm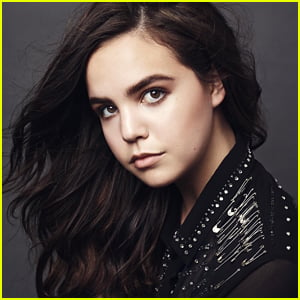 Bailee Madison isn't just an actress in her latest film, A Cowgirl's Story — she's also a producer.
JJJ sat down with Bailee recently to chat about going behind the camera for the flick, a step that she's actually taken before with Annabelle Hooper and the Ghosts of Nantucket.
"After speaking with other producers who are friends of mine, I realized that it doesn't matter if you have been an actor your whole life, a producer, or a school teacher, you can never be fully prepared for a day's work," she says about her new role. "A new challenge is always bound to come up."
Bailee adds about wearing two hats all at once: "It was challenging to do a scene, and while the scene was happening, worry about my acting, the rest of the actors, make sure everyone was hitting their marks, hear a line, and make a mental note to re-write it; in addition to wondering if our horses need a break, if our crew is good, and if we are on time and not going into a meal penalty."
"Producing is a very selfless job. It's about taking care of everyone on-set before you, and I think that's why I loved it so much."
Want to learn more about Bailee's time on the film as an actress and producer? Click inside…
JJJ: What did you take away from being a producer on the film?
BM: There is so much more to learn and don't be afraid to speak up. I ABSOLUTELY LOVED IT, and I can't wait to produce again soon.
JJJ: Tell us about your audition and how you got involved in the project!
BM: I got a phone call from my friend Timothy Armstrong, who is the writer and director of "A Cowgirls Story". I had worked with Tim in the past on "Cowgirls N' Angels" and loved my time with him so much. He told me he wrote a script and that he would love for me to bring one of the characters to life, but even more so to join him behind the camera to produce the film. I was humbled and so excited. We met up for milkshakes to discuss and began to put a dream cast list together right then and there.
JJJ: Can you describe your character in 3 words.
BM: Hopeful. Loyal. Strong.
JJJ: What was the biggest challenge of taking on your role and how did you get through it?
BM: The biggest challenge of this role was knowing that I was also going to be producing. It was a non-stop job and one that I didn't take lightly. I had the time of my life.
JJJ: How did you bond with the rest of the cast? Any fun behind-the-scenes stories you can share?\
BM: The cast became family to me. I was so fortunate to have been heavily involved with the casting process. It was important to Tim and I to cast an ensemble who were talented and had kind hearts as well. Some of the cast happened to be friends of mine, one of our actors was actually a family member and some of the cast I hadn't met before. We all bonded in the same way and I think it made our movie that much more special.
A cute behind-the-scenes story is that we got to film at an adorable pet shop, unlike any other. There were baby chicks that we had the opportunity to hold between takes, and Aidan actually adopted a cat! Another fun story is how hands-on some of the parents were on-set. They would all get together and make sandwiches or snacks and bring them around to the crew. They became very close as well!
JJJ: Did you get to take anything from set? If not, what WOULD you have liked to take?
BM: Some of the wardrobe pieces my character Dusty wears were actually pieces I had found! So I have the black dress she wears during the dance scene, and the horseshoe choker. I shopped in vintage stores to find cool belts and even her cowboy boots. I even gave Chloe some pieces for her character to wear as well.
JJJ: As a producer, what were some of the hardest decisions you had to make?
BM: I'd say bringing our crew and cast together. Tim and I spent weeks looking at audition tapes and also looking for the best behind-the-scenes team and it was the hardest when it came time to have to make a decision.
===============
A Cowgirl's Story is out on DVD now!
Like Just Jared Jr. on FB