Tue, 02 May 2017 at 3:15 pm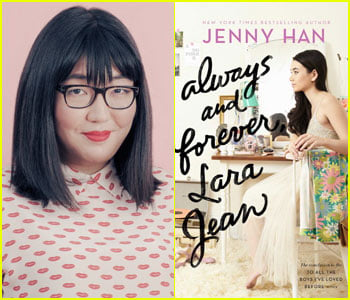 The final book in the To All the Boys I've Loved Before series, Always and Forever, Lara Jean, is out today!
We recently sat down with New York Times best-selling author Jenny Han to talk about how the third installment came together.
"I wasn't planning on doing a third book. It was just supposed to be the two," she told JJJ. "I just started secretly working on it because I didn't want to get anyone excited about it. I wanted to see if there was enough story left to tell. The first night I started working on it, I was up til dawn just writing it. Then I thought, 'OK, there's stuff I still want to say.'"
"One of the things I'm glad about is being able to bring her full circle," Jenny said. "Because as the first book ends, her sister is going to college and leaving, and she's feeling really adrift about it – feeling just like her support system is gone and the ground is shifting below her. She's thinking 'I would have done things this way and I wouldn't have gone so far away. I wouldn't bring my boyfriend.' It was fun for me to put her in that place because it was going to be her time. How would she do things differently…or not?"
"I wanted to write a character who felt very comfortable in own skin, and satisfied in her circumstances," Jenny told us about crafting Lara Jean as the series' protagonist. "She's really not longing for a boyfriend or longing for a better social life. She really does like to be at home, and make cookies and hang out with her sisters. That's sincere. She is a character with a lot of longing and romantic ideals, but that doesn't necessarily look the same way that someone else's does. I like to explore that."
As for deciding whether or not Lara Jean and Peter live happily ever after, Jenny said, "In terms of teenage romance and falling in love…you want that to be forever. And then you think, you're 18. Is that person really the person for you? Maybe. They might be. They might not be. I really grappled with that idea – what I wanted for her and what she would want for herself."
Be sure to pick up your copy of Always and Forever, Lara Jean now!
- Reporting by Sharon Tharp (@sharontharp)
Like Just Jared Jr. on FB