Mon, 15 May 2017 at 3:26 pm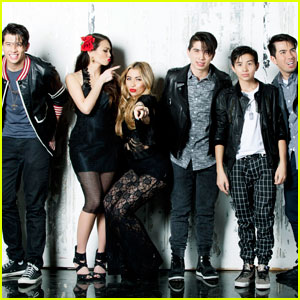 Get to know the upcoming group JAGMAC!
The Baltimore natives – Jared, Angelique, Gabriel, Manjo, Alyssa, and CJ – are siblings who recently found success with their single "So Good" and toured with Little Mix on their Get Weird Tour in the U.K.
"'So Good' has a 1940′s swing vibe mixed with current pop, a sound that really speaks to all of us," the group told JJJ. "When writing the song it only took an hour, it just came to us and felt so natural and so fun. There's no better word to explain it, it's just so FUN."
Check out 10 fun facts JAGMAC shared with us:
1. Jared hates the sound of loud electric hand dryers in public bathrooms.
2. Jared loves archery and anything that shoots.
3. Manjo loves to DJ and produce EDM.
4. Manjo is the Filipino Salt Bae.
5. Gabriel can burp the ABC's.
6. Gabriel is obsessed with sports, especially football.
7. Angelique always wanted to work in an ice cream shop.
8. Alyssa's favorite TV shows are: The Office and Game of Thrones.
9. CJ is a total neat freak.
10. CJ occasionally gets scared of animals – even small ones!

JAGMAC – "So Good"
Like Just Jared Jr. on FB