Mon, 22 May 2017 at 11:30 am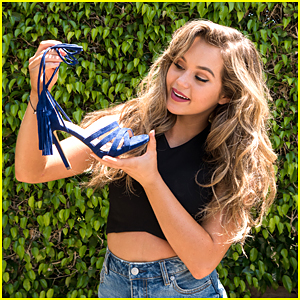 If it's one thing to know about JustJaredJr.com, it's that 100% of our staff are shoeholics — which is exactly why we are over the moon about Brec Bassinger's new collaboration with GuiltySoles!
The company has so many cute styles, and teamed up with Brec for a super special heel — one that when you buy a pair, a portion of the sales will be donated to JDRF, the Juvenile Diabetes Research Foundation.
JJJ had the chance to chat with Brec about her collab, what designing a shoe is actually like and what pair of shoes she actually couldn't live without.
"I am super excited about this partnership and the money it could raise for JDRF," she says.
Brec adds of the team-up, "This initially came about when GuiltySoles saw that I was a type 1 diabetic. One of the amazing workers at GuiltySoles is a type 1 diabetic as well, so JDRF has a special place in both of our hearts."
"After hearing that I was a national ambassador for JDRF we decided we had to do a collaboration. After a few phone calls and emails we decided we wanted to design a shoe and donate a portion of the proceeds."
Want to learn more about Brec's shoe? Click inside now!
JJJ: Can you tell us about your design process?
BB: The design process took place over a couple of months! Since they are not located in Los Angeles most of it happened through phone and email. I sent them inspiration pictures and then we got to the nitty gritty stuff like shape, style, and color.
Color was very important to me because I wanted it to represent JDRF as well as me. I chose a royal blue color because that is the color for JDRF and I chose red to represent type 1 diabetics as a whole.
Diabetics have to endure so many injections, and blood sugar tests that I automatically think of red, but red is also such an empowering color. Being a diabetic comes with a lot of battles and feeling a little extra boost of power never heart anybody.
JJJ: What's the one thing about your shoes that's important to you?
BB: The one thing about my shoe that is important to me is how they make people feel. I want people to put this shoe on and not only feel beautiful and powerful, but also know they are working for a great cause by wearing them.
JJJ: How many pairs of shoes do you actually have in your closet?
BB: Hmmm…I haven't counted in a bit, but definitely more than I need! I have always had a passion for shoes. I think a great pair of shoes can make any outfit special. My guess is around 120?
JJJ: If you only had to wear one pair of shoes for the rest of your life, which ones would they be?
BB: I would wear my platform converse. I am pretty short so I like things that give me height, but I'm also a sucker for comfy tennis shoes! Best of both worlds.
Like Just Jared Jr. on FB