Mon, 05 June 2017 at 12:15 pm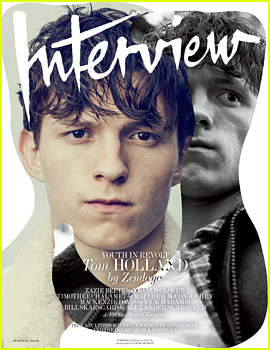 Tom Holland was interviewed by Zendaya, his Spider-Man: Homecoming co-star, for Interview magazine's June/July 2017 Rising Stars issue!
The 21-year-old actor spoke about the audition process for the film, finding out how he landed the role, and more. Here's what he shared…
On the Spider-Man: Homecoming audition: "That process was five months. I did eight auditions. I did five self-tapes, and then a screen test with Robert Downey Jr. and a screen test with Chris Evans. In the screen test with Robert Downey Jr., they brought me into the room and I met him. I was so nervous. In my head, I thought, 'Wow, you look really weird in person. You don't look like you do onscreen.' I found out later that I met his stand-in. I basically got my nerves out on his stand-in and then met him. Then my screen test with Chris Evans was a movement test. I was like, 'Shall I do a backflip?" And all the Sony guys were like, 'Can you do a backflip?' 'F*ck, yeah. I've been sending you videos for the last five months of me doing a backflip. How do you not know this?'"
On finding out he landed the role via Instagram: "The thing that killed me was the waiting. Even after my self-tapes, they would call me up and be like, "We're going to let you know tomorrow." Six auditions later, still nothing. On my last audition, they said, "You need to stay in Atlanta because we'll tell you tomorrow." So I stayed in Atlanta for about a week because my cousin lives there. With each passing day, there was no phone call. I flew back to London. Five weeks passed. I kept checking my phone every 20 minutes, trying to find something. Eventually, one day I was sitting on my bed with my dog just scrolling through Instagram, and there it was. It said, "Go to our website and check out who the new Spider-Man is." And I did. It said my name. I went crazy. My poor dog had a fit. I ran downstairs, told my family. My brother, Harry, was like, "No, dude. Sony's account has been hacked. They'd let you know. They'd call you." Which is so Harry, by the way. He's so pessimistic about everything. But Sony had gotten hacked not long before. Then [president of Marvel Studios, and producer on the film] Kevin Feige rang me up, telling me, "I've got great news. You're going to be Spider-Man." I'm like, "I know, Kevin. It's on Instagram. I'm 19. Did you really think I wasn't going to find it?"
On his goals: "The 20-year goal is to be a film director. The 15-year goal is to win an Oscar. The five-year goal is to just keep enjoying myself. I really am having the time of my life. But as far as my future goes, I want to stretch myself as an actor in a way that Jake Gyllenhaal, Leonardo DiCaprio, and Meryl Streep do. I don't want to be stuck to one character. I think that's what can happen when you take on a superhero movie. So every conversation I have with my agent is, "What have you got for me? What's next? Who can I play?"
Stay tuned for all our coverage from the mag – there's five cover stars including Timothée Chalamet, Bill Skarsgård, Mackenzie Davis, Zazie Beetz, and Tom!
For more from Tom, visit InterviewMagazine.com.
Like Just Jared Jr. on FB