Wed, 14 June 2017 at 11:13 am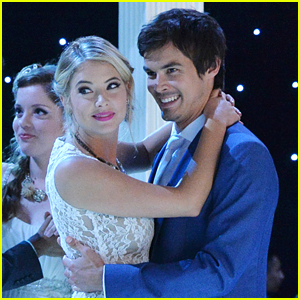 There was a ton of things that went on during last night's episode of Pretty Little Liars.
But the biggest thing of all? HALEB GOT MARRIED!!! (Sorry, not sorry for the spoiler).
In the ep, after the police have given them only 36 hours to turn one of the Liars in for Dunhill's murder, Caleb takes Hanna to a court house because they're getting married.
He her that they should do this while they still can and points out that if they're married, they can't testify against one another.


HALEB ARE MARRIED! HALEB ARE MARRIED! AND JJJ IS SO HAPPY!
Click inside to see what else went on…
– We learn that Detective Tanner has taken over the case because Marco was "too close" to it. Looking at you, Spencer.
– The Rosewood Police are invading all the Liars' homes, businesses, and cars. They really, really want to catch whoever killed Archer Dunhill.
– The Brew even got raided…we mean, searched and seized — all except for Aria's burn phone from A.D., which was secretly hidden in a vent. Sneaky…
– She also makes a plan to meet up with A.D. later that night.
– Mona crashes an all-Liars meeting to out Aria to them all. She starts revealing all the things that Aria has done over the past weeks…even tonight's phone call! Um, Mona…are you uber A?
– Toby is back! But only for a quick pickup at The Brew, where he runs into Spencer.
– Later, Aria is in the woods (obviously) for her meet up with A.D. but doesn't run into whoever that is. Instead, she runs into the Liars, who are all rightfully pissed off at her. She tells her friends that A.D. had been blackmailing her, but they still aren't having it.
– They leave her there when Det. Tanner calls for them to come to the station.
– Tanner basically tries to bully the Liars, at least one, into confessing to the murder, but they don't.
– In another Liars meeting the next day (minus Aria), all of them make a point on why each should turn themselves in. This is when Spencer is reminded that she once did the same thing Aria was doing and goes to apologize to her.
– Aria comes clean with Ezra about what's been happening with the search and seizure and the report that she had once filled out that A.D. had on her. Ezra has known about this all along.
– Emison spend a night under the stars (swoon), because they're reminded that they really have only 36 hours until one of them has to turn themselves in.
– Spencer and Toby get back together! Kind of, maybe it was just a hook up, who knows. But we're living for it!
– After that night, the Liars get back together and Spencer does what they should've done in the first place — smash the game phone.
– Aria has plans to turn herself in, but it's too late. She's on her way to Spencer's house when her car stalls and stops. She gets out to check it, just in case, and in the trunk she finds something — a dead body. Archer Dunhill's to be exact. And that's not all, a cop car pulls up behind her.
– Ezra and Caleb have teamed up to locate the game that just keeps disappearing from all the Liars homes and they've found it — in Mona's apartment, who just happens to be staring at it, completely fascinated. Seriously, is Mona uber A?!
Like Just Jared Jr. on FB