Thu, 15 June 2017 at 8:25 pm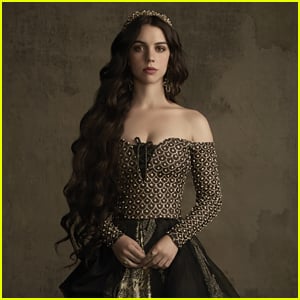 As fans of Reign, we think that we know pretty much everything about the series and our favorite monarch, Mary, Queen of Scots.
But after talking with star Adelaide Kane, JJJ realizes we actually didn't.
After dishing to us that she would've gotten rid of the rape storyline in season two ("That was hellacious, so I would've taken that out," she says), Adelaide revealed that she gave Mary a little trait that we didn't pick up on.
"After [that], I consciously decided to give Mary a nervous tick. It's whenever she's really, really nervous about keeping it together or when her emotions are running high or when she felt threatened, she would rub her insignia ring. It's almost like a post traumatic stress reflex."
She adds, "I would rub my rings and I established that in season two. Any times in really high stress, that's what I would do as a nervous tick. It was more a subtle thing that I would do for me as a subconscious kind of marker."
"I don't know if the fans picked up on that or not, or even if I was as consistent with it as I wanted to be. But it's just a little thing and choice I made for her," Adelaide shares. "That kind of experience sticks with you for your entire life and I didn't want to just leave it by the wayside when we wrapped that up. That's something that will be a part of her forever and I wanted to keep it and did it for the remainder of the show."
That storyline was a very ripping one and to just let it go wouldn't be right, and Adelaide agrees.
"It was just really important for me to honor that storyline and the importance of it in the show as a whole. I wouldn't be surprised if nobody noticed it."
The Reign series finale airs TOMORROW @ 9PM ET/PT on The CW.
Like Just Jared Jr. on FB