Tue, 20 June 2017 at 10:39 am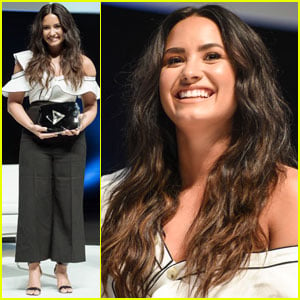 Demi Lovato is opening up about being a child star on the Disney Channel.
The 24-year-old singer talked about it during a discussion at the 2017 Cannes Lions Festival on Monday (June 19) in Cannes, France.
"I wouldn't start out that young if I could do it over again," Demi said (via Variety). "I don't regret anything. It was difficult to transition from a child star to transforming into a mainstream artist. It's something that is very challenging."
"You have to find your identity. For so long you've been molded into something and now you're expected to figure out who you are very fast in front of the entire world," she continued. "It's definitely has been difficult, but it's been a learning experience. I am still figuring out who I am every day."
Demi is busy working on her upcoming YouTube docu-series Demi Lovato: Simply Complicated, which will debut later this year.
"I feel like I'm at a turning point in my life," Demi said. "I'm turning 25. I feel like I've lived a lot longer than I actually have.
"If you asked me a year ago, I would have said within the next five years I would be married, starting a family," she shared. "That all changed, which I touch on in my documentary. I don't know what I want the next five years to look like. I'm still figuring that out. I love music, I want to make music and tour. I want to dive back into acting at some point."
Like Just Jared Jr. on FB