Fri, 30 June 2017 at 12:52 pm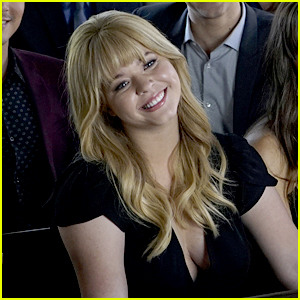 Pretty Little Liars actress Sasha Pieterse penned a gorgeous note honoring the end of the seven-season series earlier this week, and after the finale she took to Instagram again to work through all of her emotions.
"Yesterday marked the end of a major chapter in my life," she wrote, accompanying the image of all five liars making a "shhh" sign from the finale, "As I'm sure a few of you know, the TV show Pretty Little Liars had it's very last finale last night."
Changing course after so many years left her feeling a bit uneasy.
"I woke up feeling sick with a huge knot in my stomach! It's so surreal that there will be no more live 'previously on Pretty Little Liars' and no more 'Shhh's' at the end of that now very iconic song," she said, "But as I joined my PLL family to watch the finale, I was hit by this wave of absolute joy."
"It dawned on me that this is an end to an era," she continued, "A very important era, but even more importantly it was a time to celebrate. To embrace the incredibly wonderful time we all shared together and to soak in every bit of joy it had brought me and others. PLL… playing Alison has been such a crucial part of my childhood and now adulthood.From starting and graduating high school, getting my drivers license, buying my first home, getting engaged to my best friend, and now wedding planning, what a trip! I just want to thank you. I wish I could give all of you a huge hug!"
She closes out her post with a tribute to both her fans and her future.
"You have seen me grow and you have grown with me. Thank you for always sticking by me, for never giving up on me or Alison. As I enter this new chapter of my life, I hope you will continue with me. There's so many new fun adventures I'm about to journey through and I would be so honored if you all ride along with me. My blog @sashaingoodtaste is definitely one of those adventures. Sasha in Good Taste doesn't just stop at this blog, there's so many more things in store (very soon) that I can't wait to show you! Creating and entertaining is such a passion of mine and having you share that alongside me, means the absolute world to me! We. are. family. and Rosewood will forever live on! I wholeheartedly ADORE YOU! Love, Sasha… -A #prettylittleliars #pllfamily #emisonfamily #emison #emisonisendgame #sashaingoodtaste."
We can't wait to see what she does next!
The appropriate last line of her post will also serve as the last line of this one: "That's immortality my darlings."
See her full Instagram inside.
Like Just Jared Jr. on FB