Thu, 13 July 2017 at 10:59 am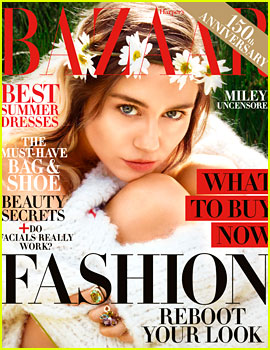 Miley Cyrus is looking amazing on the cover of Harper's Bazaar's August 2017 issue, on newsstands July 25.
The 24-year-old entertainer is talking all about "being cool," her evolution, and more. Here's what she shared…
On her evolution personally and musically: "People get told that it's a bad thing to change. Like, people will say, 'You've changed.' And that's supposed to be derogatory. But you are supposed to change all the time… People have known me since I was so young, they think they know me. I heard so many comments like, 'We just want Miley back.' But you can't tell me who that is. I'm right here."
On being a role model: "I think I show people that they can be themselves. I also think something that has been important for me, in this next little, like, transition phase of my career is that I don't give a f—k about being cool. I just want to be myself."
On her 'shocking' behavior in the past: "People were so shocked by some of the things that I did. It should be more shocking that when I was 11 or 12, I was put in full hair and makeup, a wig, and told what to wear by a group of mostly older men. I didn't want to become any sort of man hater because I love all humans; I am a humanitarian. Beyoncé said, 'Girls run the world,' and that was an important thing to say because I think subconsciously we are beaten down to believe that it isn't true our whole lives. It's no wonder that a lot of people lose their way and lose who they really are because they always have people telling them who to be."
FYI: Miley is wearing a Missoni sweater on the cover.
For more from Miley, visit HarpersBazaar.com.
Like Just Jared Jr. on FB