Wed, 19 July 2017 at 11:37 am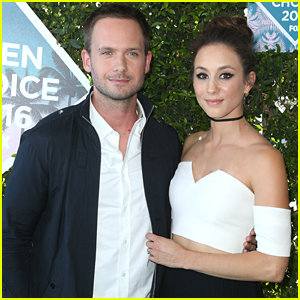 Troian Bellisario had to really convince and sell her husband Patrick J. Adams about her new movie, Feed, which she wrote and starred in.
The movie, where Troian addresses her eating disorder which she had just gotten over, is out this week and Patrick wasn't the biggest fan of it at first.
"It was challenging [for him]," she shared with ET. "He met me right after I wrote this film. He didn't know me then, so when he read it, he said, 'The illness is very upsetting, and I don't know if I really want to support you walking back into it.'"
Troian and Patrick had a big conversation about it and why it was important for her to do this; to tell her story.
"Then ultimately, and in having the conversation with him, [he said], 'If this is something that we can create a conversation around and I can help, OK… but I just want to let you know that I'm going to hold your hand in the fire, but when you walk back out of this, you're coming back to me,'" she says. "'You're reinvesting in your health. I'm not going to see you put yourself through this, only to fall back into it again.'"
Troian added, "He was really supportive in the way that he was like, really watching me. [He was] really protective of me."
Like Just Jared Jr. on FB