Fri, 18 August 2017 at 12:32 pm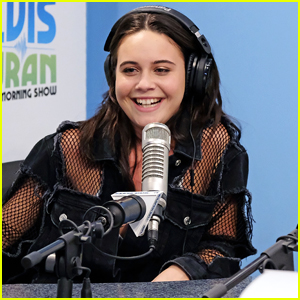 Bea Miller drops by the Elvis Duran Show in New York City on Friday morning (August 17).
The multi-talented singer performed one of her songs for the radio show after talking about her music that she's been releasing all year long.
Speaking with Billboard earlier, Bea opened up about how she decided to release her new stuff in chapters.
"I have synesthesia," she says, "which is when you see music in color. That's why I've been using the colors because whenever we decided that we were going to release the music in chapters, rather than all at once, I was thinking, 'well how do we take this farther? how do we expand on this and make it more creative?'"
Bea continues that the colors we chosen based on moods and emotions, rather than just choosing them because they're primary colors.
"I was thinking…and it's not 100 percent, but I'm thinking I wanted it (to be titled) something like Spectrum," she adds about the title of the album.
"In the same sense the three primary colors can make any color on the spectrum, you need to experience emotions – the sadness, the loneliness from Chapter One, and the anger and empowerment in Chapter Two, and then the happiness and just trying to figure out and learn from your mistakes in Chapter Three – in order to be the best version of yourself that you can be."
Like Just Jared Jr. on FB