Sat, 19 August 2017 at 3:37 pm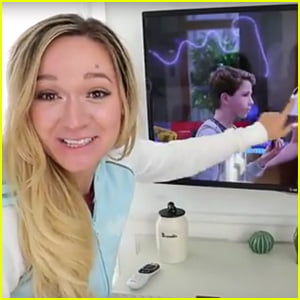 Did you see Alisha Marie on Bizaardvark yesterday?!
The social star – who recently launched her first app – posted a video on Saturday (August 19) in which she watches the episode air for the first time, and her reaction is priceless.
"Most of you probably know this but not everyone, I never told you guys that I'm on Disney Channel!" she says in her video. "And no, I'm not replacing Jake Paul."
Alisha went on to share that she told fans she was going to appear on Disney Channel about a year ago, but she wasn't sure when or if the episode would even air.
"I literally am making a cameo as myself," she explains. "The funny part is, though, I think a lot of people forget that I'm still acting … Even though it's me, it's not me. But it was so much fun, I would love to do more stuff like this.
"Everyone was so sweet," she reveals, adding, "My childhood self is screaming, like Disney Channel! Lizzie McGuire. Like, 'Hi, I'm Alisha Marie and you're watching Disney Channel.' Just kidding. I wish."
Alisha also takes fans through her day, which features lots of cameos by cute pups.
Watch below!

I'm on Disney Channel! Alisha Marie on Bizaardvark!!
Like Just Jared Jr. on FB