Fri, 01 September 2017 at 8:29 pm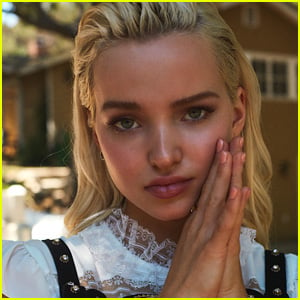 Dove Cameron is spilling on her relationship with boyfriend Thomas Doherty!
Here's what the Descendants 2 star had to say during her recent shoot for Flaunt Magazine:
On staying authentic: "I don't want to do anything unless it's extremely authentic. I don't ever want to do anything just to stay busy or have a press release. I have to fight that fear lizard-brain that tells me to just do what people expect of me. It's a weird, scary thing to live by your reward system alone, but I think it's one of those things that eventually pays off and creates a much richer life."
On her relationship with boyfriend Thomas Doherty: "I'm so in love. It's criminal. We both just turned our lives upside down, like 'Oh my god, I had no idea you were out there.' He's just the most quality human being. He shouldn't exist."
On being shamelessly "extra": "I've always been the most extra. When I was seven, I wore red lipstick everyday and big fur collars. I was not a smiley kid. I was broody and dramatic. My mom always tells this story about how I only liked to drink out of wine glasses. I would walk into the room with my wine glass and sigh really loudly. She'd be like, 'What?' and I'd say, 'I'm just so tired. I'm so, so tired.' Seven years old and so jaded. I've always been a theater kid. Aside from getting a little taller, I haven't really changed at all."
Click inside to hear what else she had to say…
On the idea of being a celebrity: "It just promotes this unapproachable pedestal thing, and that's very lonely and silly. It's so weird because being a celebrity is no different than having any other job, except we've decided as a society that it is. Nobody is higher than anybody else, so what a strange thing to feed into."
For more from Dove, visit Flaunt.com.

Flaunt Film featuring Dove Cameron, presented by AG
Like Just Jared Jr. on FB