Wed, 27 September 2017 at 11:57 am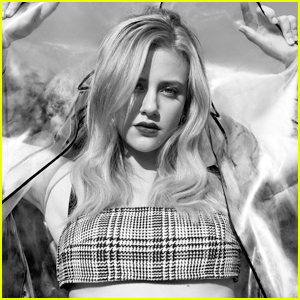 Lili Reinhart gets chic in black and white in a shoot for W Magazine's website, online now.
The 21-year-old Riverdale actress opened up about her anxiety, meeting Cole Sprouse for the first time and Bughead. Check it:
On her first opinions of her co-stars: "I thought KJ [Apa] was so hot, so charming. I had seen Cole and Camila [Mendes] at the studio test, and thought Cami was so beautiful. It's funny, I don't really remember having an opinion on Cole, to be honest. Of course, I had grown up watching [The Suite Life] but I wasn't really starstruck. He just seemed like this really attractive, normal guy."
On her sudden rise to fame: "The show took off in such a way that fame followed very quickly after, and it wasn't really a smooth transition,. It was just kind of like, 'Bam.' It wasn't a bad thing, but all a sudden, I'm doing all these things and a year ago, I was just starting to film season one, and two years ago, I was living in North Carolina with my parents."
On seeing Bughead in Riverdale season two: "People are obsessed. They are some really beautiful moments between them, but also really intense. Season two is kind of heart-wrenching. Betty is going through a traumatic situation, and your heart goes out to her, but you also see some new sides to her, which I'm super excited about. Season two definitely opens a door to showing different sides to all of these characters, and it is really beautiful to watch."
On moving back home before landing Riverdale: "My anxiety was so bad that I had to keep quitting jobs because I physically could not work. But I knew I needed to make money, so I got the job and the women there was like, 'You need to go find a black button-up shirt and slipless shoes.'…I threw up in my Uber because, one, I was carsick, and two, I was having a panic attack. I get home, lock the door in my room, immediately Skype my mom and said, 'Mom, I'm not okay.' I had to get a brown paper bag and breathe into it, which felt so dramatic, but I really could not breathe. I felt like my world was crashing. I didn't want to admit defeat, but I was like, 'I need to come home. My mental health is suffering, and it is making me physically ill.'"
For more from Lili, visit WMagazine.com.
Like Just Jared Jr. on FB