Wed, 13 December 2017 at 6:50 pm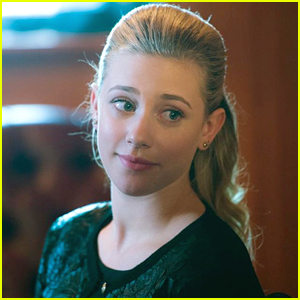 Last week, the internet exploded over Betty Cooper's sexy serpent dance on Riverdale that resulted in a lot of jaws dropping, and Jughead breaking up with her.
The comments still haven't stopped about the dance either — "Right on about that horribly uncomfortable Betty striptease. On what universe did the writers think that was OK? So wrong on so many levels" and "I skipped Betty's whole striptease cuz it was uncomfortable af" were just some of the biggest feelings about it.
But that was the point.
"People were very caught up with the fact that Betty is 16 and she's dancing around all these men, but that's the point," Lili Reinhart told Glamour. "That scene was supposed to make you uncomfortable because you're watching this girl do something completely out of her comfort zone for the man that she loves."
"You're watching her make a personal sacrifice, and that is the most important takeaway."
Lili adds, "It only makes it harder to watch when they break up at the end of the episode because you know that she laid it all out on the line for him. He's trying to protect her from that darkness, but she wants to be part of it."
In tonight's episode, fallout from Jughead's encounter with Penny Peabody creates tension between him and FP. Meanwhile, Betty and Archie's vow to take down the Black Hood once and for all leads to a dangerous showdown.
Riverdale airs TONIGHT @ 8PM ET/PT on The CW.
Like Just Jared Jr. on FB