Tue, 09 January 2018 at 1:29 pm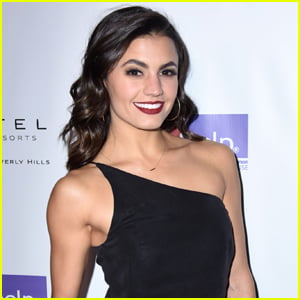 Hayley Erbert has been a staple on Dancing With The Stars for a handful of seasons now and we always look forward to seeing her perform.
Currently on the DWTS: Light Up The Night tour, the pro dancer headed to Instagram this week to open up about how she almost fell out of love with it, before finding her passion again.
"I have been dancing since I was 3 years old and from a very young age, I knew this is what I wanted to do for the rest of my life," she starts. "In the past year, however, I have been really struggling to remember why I was passionate about it, I lost my spark so to speak."
Hayley continues, "As the new year came in, I took time to really think about it.. Because dancing is my everyday job, I started treating it as exactly that. I forgot why for so many years I CHOSE to go to dance. Regardless of how my day went, I wanted to go because it was my release, it was the one consistent thing in my life that truly made me happy and continues to make me happy."
"But dance has brought me so much more than happiness, I met some of my friends that I will have for life (even more than those that are tagged, insta only let me tag 20 people) and it lead me to the most amazing man," she adds, speaking of boyfriend Derek Hough.
"I am so grateful for dance and all of its beautiful gifts. I want to thank my incredible friends and family for standing by me through this time in my life and guiding me to find my light again."
Like Just Jared Jr. on FB