Tue, 09 January 2018 at 11:30 am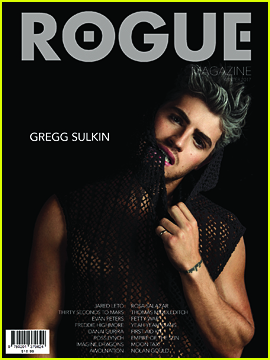 Gregg Sulkin is on the cover on Rogue Magazine's Winter Issue, hitting newsstands on January 15.
Here's what the 25-year-old Runaways star had to say:
On the moment he stopped feeling like a child actor: "Personally, I think [it was] when I turned 24. Mentally I felt different. So that was a big transition for me. That year I learned the most about myself. In the past two years I've learned so much about myself. I feel like I'm a different human being. There's a presence there of stability and stillness."
On fame: "There are so many bigger things going on in the world. So many more issues, so many more problems. And so many more industries in my opinion that are actually benefiting society. Yes film and TV does tell stories and they can help people through things and sometimes the best way to help people is through art. [But] at the same time there are people curing cancer, surgeons, people putting out fires working 36 hours straight. I think it's easy for people to get caught up in believing that [fame] is everything, and this is the world, and getting a big role is the be all, end all. When in fact, it's not. I think about what actors can earn, and then I think about firefighters earn, it just doesn't make sense."
On filming Runaways: "There's an energy that runs throughout the cast, there's a special enthusiasm not just throughout the cast, but throughout the crew. They're there because they love it and that resonates. You've got this wide range of experience throughout the cast but everyone has the same mentality, which is we're all in this together, we're all one family, we all want to make the show good, hopefully for many years to come."
For more from Gregg, visit TheRogueMag.com.
Like Just Jared Jr. on FB