Wed, 24 January 2018 at 1:28 pm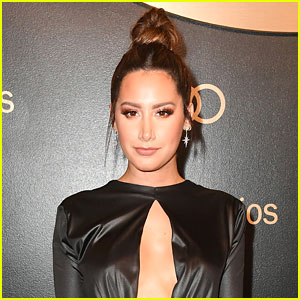 Ashley Tisdale held a Q&A in her latest YouTube post, and the stand out is from her wedding!
The 32-year-old actress and producer picked a question from a fan that asked, "What is the funniest memory from your wedding day?"
"The night before, we were staying at the estate that I got married in, me and my bridesmaids," she started. "And we didn't know that there was a dog on the property, because it was a huge property, and it had horses on the property. but there was a dog. We Were in the dark and we were, it had a polo field attached to this estate, and we were just walking for exercise, I was trying to get my steps in."
"Suddenly we hear chains and I'm like what is that noise?" she continued. "You hear galloping and from a distance it looked like a small horse, but me and my friends got attacked by a Great Dane, which is pretty much a small horse. It was a puppy and it wasn't really attacking us, but at first, none of us knew. We were like oh my gosh this thing is like, you just see this thing galloping towards you. I'm like is this a security guard, what is this? We didn't know if it was some scary dog, that was a security dog, that was taught to fight people. But we soon figured out it was just a puppy and it was just really excited. It was so big it kept hitting into us, and I almost got punched in the eye by a friend, my girlfriend got punched in the stomach from the dog's head. It was the scariest, craziest thing."
Ashley married her husband Christopher French in a rustic and elegant wedding in 2014 on an estate in Santa Barbara, Calif.
Like Just Jared Jr. on FB