Thu, 25 January 2018 at 4:43 pm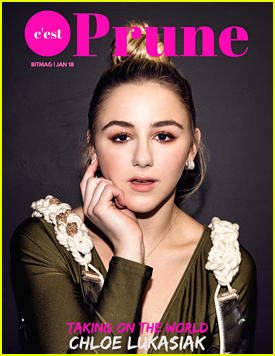 Chloe Lukasiak is revealing a lot more about herself than we ever knew!
The Dance Moms alum, actress and now author, opened up to Prune mag about the things she's hoping to accomplish out of life, how music helps her through situations and her number one skin care tip. Check it:
She wants to duet with her sister, Clara: I want to do a duet but she told me she needs a few more years lol. We would probably dance to a song by Florence and the Machine because we both love their songs.
She wasn't as close with her mom as she is now: My mom and I have had lots of crazy adventures together but I think the best one is reconnecting through my teen years. We are obviously incredibly close but, of course, being a teenager means you have lots of mood swings and you're mom isn't always your favorite. We still fight but I feel like we worked through the hardest part of transitioning into the teen years. There was a brief period where we weren't as close as we were before and now, I think we are closer than ever.
She loves a good playlist: I have about 8 playlists on my phone. I actually don't listen to one more than others. I have them all for different reasons so I use all of them frequently. For example, one is called sleep and I turn it on when I'm traveling and want to sleep but also want to listen to music.
She wants to try screenwriting: I eventually want to try screenwriting or directing or producing but right now, with having just published a book and continuing to act, I am very happy in my bubble.
She swears on this face mask: Taking care of my skin is important to me because I'm always traveling and wearing lots of makeup. I use so many different face masks but the one I use the most is from Biologique rechere.
Like Just Jared Jr. on FB