Mon, 05 March 2018 at 3:38 pm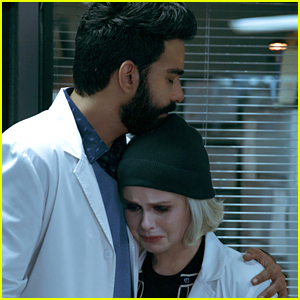 If you remember, Ravi brilliantly came up with a cure for zombieism on iZombie — however, that cure was stolen, and the culprit is still at large.
While the original plan was for Ravi and Liv to find out the thief's identity at the end of last season, it got pushed to season 4…and it looks like we'll be finding out sometime soon.
"It's not as quick as you think. It doesn't happen quickly," Rahul Kohli, who plays Ravi, shared with CBR.
Even more, he was surprised as to who the thief actually was too: "I didn't see it coming. I went back, as I kind of breezed over, and I was like 'Hmmm? No.' And I went back, and, yeah, that was a big shock…it's kind of stupid…It fits so well, I feel stupid that I was shocked, but I was shocked."
Rose McIver adds that the reveal is "very important in the bigger picture of the show."
"I feel like, ultimately, [my character] Liv wants to be cured. It's hard because I think she found her purpose through being a zombie, but, the inability to have children, or to have to eat brains of people who have died for a living for her is clearly not the long game," she continues. "They are very game to find out who stole the cure…[But] it becomes more so, later, throughout the arc this year."
Tune into tonight's all-new episode @ 9PM ET/PT on The CW.
Like Just Jared Jr. on FB