Mon, 05 March 2018 at 7:41 pm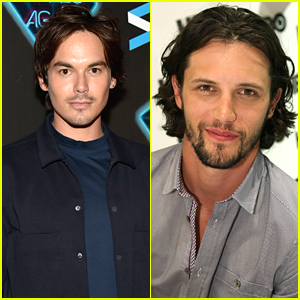 We're starting to think that Tyler Blackburn has a thing for R-named towns, because he just joined Roswell!
The former Pretty Little Liars and Ravenswood actor has joined the CW reboot, along with Nathan Parsons, Lily Cowles, Michael Vlamis, and Heather Hemmens, THR reports.
The pilot revolves around the daughter (Jeanine Mason) of undocumented immigrants who, after reluctantly returning to her tourist-trap hometown of Roswell, New Mexico, discovers a shocking truth about her teenage crush who is now a police officer: he's an alien who has kept his unearthly abilities hidden his entire life.
She protects his secret as the two reconnect and begin to investigate his origins, but when a violent attack and long-standing government cover-up point to a greater alien presence on Earth, the politics of fear and hatred threaten to expose him and destroy their deepening romance.
Click inside now to see who Tyler is playing now!
Nathan will play Max, described as a natural born leader and dedicated Roswell police officer who for years has concealed his origin and unearthly abilities.
Tyler will play Sgt. Alex Manes, who is returning home from the Middle East after experiencing his fair share of psychological and physical trauma and aims to adhere to his father's expectations, abandoning his dreams and the possibility of a future with the man he loves.
Heather plays Maria, Liz's fun, free-spirited former best friend and social media maven who is oblivious to the realities of Roswell.
Lily is Isobel, the polished and restrained woman who wasn't meant for small-town life, but she lives it with all the grace and enthusiasm she can muster in order to keep her true origins a secret.
Michael is playing the character of the same name, Michael, who survived a violent childhood and is now secretly driven to find a way to escape Earth and the humans who have failed him, to return to a mysterious home he's never known.
Like Just Jared Jr. on FB