Wed, 04 April 2018 at 2:58 pm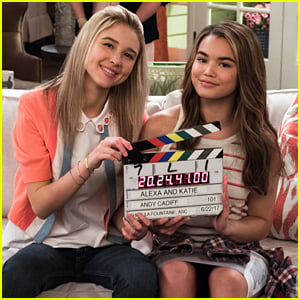 It's not easy playing someone with cancer on a television show or in a movie, but Paris Berelc is doing it really well on Netflix's Alexa & Katie.
While chatting with the 19-year-old actress recently, JJJ discovered that Paris and her cast mates did a lot of research before diving into the material for the series.
"We definitely did the research," Paris tells us. "We went online and tried to get all the information that we could on the cancer that Alexa does have and how to handle it."
On top of that, Paris and her co-stars also went to the Children's Hospital in Los Angeles to meet with patients there.
"We met with a girl, who was actually named Katie, to hear her story," Paris adds. "She was my same age, but still went to high school and has a boyfriend, and went to prom. Learning from her experience definitely helped me and the whole cast out in how to approach the story. I also have some other people in my life who had gone through cancer."
If you're still wondering what type of cancer Alexa is supposed to have, it's a specific type of leukemia called ALL, acute lymphoblastic leukemia.
"We didn't want to risk losing that audience who hasn't really seen that character before by going too dark," showrunner Heather Wordham shared with IndieWire. "So we picked this type of leukemia that has an incredibly high survival rate."
She adds, "It's common in kids and it has about a 90 percent survival rate. We didn't want to be cavalier about, 'Oh, she has cancer. It's fine.' We wanted to make sure we were depicting a type that this is most likely this child's journey."
"We picked a time in the process where she would be coming through it, so that we could still show that character but not scare away an audience that we really thought was an important audience to see this."
Alexa & Katie is streaming on Netflix now.
READ MORE:
Paris Berelc Opens Up About Co-Starring with Real Life Boyfriend Jack Griffo in 'Alexa & Katie'
Paris Berelc Dishes On Singing The Theme Song For 'Alexa & Katie' (Exclusive)
The 'Alexa & Katie' Cast Are Leaving Clues That The Show Has Been Renewed For Season 2
Like Just Jared Jr. on FB