Sun, 13 May 2018 at 11:54 am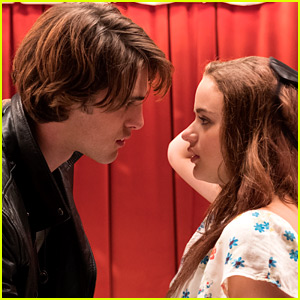 The new Netflix movie The Kissing Booth is all everyone is talking about this weekend and so many fans are just realizing that on-screen couple Joey King and Jacob Elordi are dating in real life!
The two actors met on the set of the film in South Africa and they have been dating ever since the movie wrapped nearly a year ago.
The Kissing Booth marks Jacob's biggest role to date, but we bet we'll be seeing more of him in the years to come.
Read the best reaction tweets below!
OH MY GOD JOEY AND JACOB ARE DATING IN REAL LIFE PLEASE I AM SO HERE FOR THAT

— rach🌻|| ITS TODAY!!!! (@wickedgays) May 11, 2018
my life is significantly better now that i know joey king and jacob elordi are dating

— Mads (@maadisonthomaas) May 11, 2018
I just watched #kissingbooth and found out joey king and jacob elordi are dating in real life so now they're my new parents bye

— sky (@mysticdamonn) May 12, 2018
Click inside to read lots more tweets…
knowing that joey and jacob are dating in real life makes the ending of the kissing booth better

— laur (@INTIMATEGRANT) May 11, 2018
the fact that jacob elordi & joey king are dating irl makes me so happy 💗

— babels (@kiaratejero) May 11, 2018
OMG! Jacob Elordi and Joey King are actually dating IRL?!?! How lucky i she???? *jaw drops*

— Alyssa Saludez 💋 (@alysssaaanne) May 11, 2018
okay so I actually loved the kissing booth and the fact that Joey and Jacob are dating in real life is just so cute @netflix #TheKissingBooth

— marianne :) (@haharianne) May 11, 2018
i just found out that Joey King and Jacob Elordi are dating in real life too and now my heart aches for something like that

— Robyn♥ (@westerosbucky) May 12, 2018
I think it's cute how Joey King and Jacob Elordi are dating in real life. They were perfect together in The Kissing Booth! ❤❤

— Taiparehu Janee (@Hu_GuaiyaHao) May 11, 2018
the kissing booth was AMAZING,, the chemistry between elle and lee/elle and noah was amazing, also found out joey and jacob are dating irl that's amazing

— andy #SAVELUCIFER (@acagrandes) May 12, 2018
OMG JOEY AND JACOB ARE DATING IRL

— maria (@lustcnco) May 12, 2018
little fyi- joey king and jacob elordi from "kissing booth" are dating😍

— em (@EmilyLinville11) May 12, 2018
It's 2am. I'm sobbing. Joey and Jacob. Together. The two main characters from The Kissing Booth. Dating. Heart. Melting.

— katie (@KatieLovell5) May 12, 2018
yo the kissing booth was 10/10 and I just found out Joey king and Jacob elordi are dating irl so cute omg my heart😭

— forum (@fpparmar) May 12, 2018
Okay i just found out Joey King and Jacob Elordi are dating irl ahhhhhhhhhhhhh 💓💓💓💓💓💓💓💓💓💓💓💓💓💓💓💓

— Abby (@navarroabby_) May 12, 2018
SHUT THE FUCK UP I JUST WATCHED THE KISSING BOOTH AND THAT SHIT WAS CUTE SO I STARTED LURKING AND JOEY KING AND JACOB ELORDI ARE DATING IN REAL LIFE MY HEART EXPLODED

— ً (@brandonsmky) May 12, 2018
Like Just Jared Jr. on FB