Wed, 04 July 2018 at 8:30 pm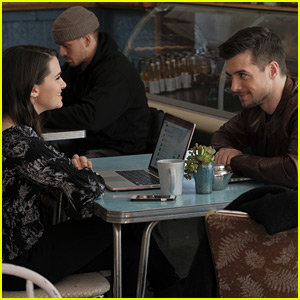 We're all in agreement that Jane and Pinstripe (real name Ryan) are meant to be on The Bold Type, right? Right.
Katie Stevens opened up about the duo's relationship in the new season and admits that Jane is kind of afraid to pursue something real with him.
"I think what's interesting is Jane has always put Pinstripe in a box because she has always thought that he is the dangerous, unstable thing," Katie says. But on the contrary, her new relationship with Ben "represents adults, stability, has a job that's secure, is charming and kind, and a doctor. It's a package that's wrapped in a neat little bow, not that it doesn't come with complications like we saw [in the] last [episode]."
She continues, "I think that Jane is afraid of Pinstripe. If she ever was to let herself give into that situation, what would happen? She tends to go with structure. That's even more so since everything else in her life is up in the air. She needs to be with somebody who provides structure."
"They will, without fail, always have chemistry," Katie emphasized about Janestripe. "That's what's so dangerous about him, especially her being in this relationship. There's no way she doesn't still have feelings for him."
TELL JJJ: Are you a fan of Jane and Pinstripe? Or are you rooting for Jane and Dr. Ben?
Like Just Jared Jr. on FB