Tue, 31 July 2018 at 4:30 pm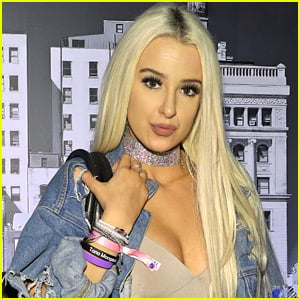 Tana Mongeau has finally issued an apology to her fans after the TanaCon disaster.
In a new video, the social star shows footage of the planning period and what was going on behind the scenes as things fell apart.
"Where I went wrong was going into this with spite and going into this with ego," Tana shared at the beginning. "And doing this in two months. I should've done it with people who I trusted."
She adds, "I put my fans at stake, I put my reputation at stake, I put my life and everything that I love more than anything in the world at stake because I believed in it. But to be frank, that wasn't enough."
"To everyone that believed in me — whether you came and you got a sunburn and you waited in line for hours and hours and hours, or you are simply watching along this journey and you believed in me and I let you down — I'm sorry and I will spend the rest of my life trying to make this better."
Tana also explained just why she waited so long to post the video – she wanted all the refunds to be handled.
About 99% of people already got their money back and Tana is planning on using the money earned from the vided to reimburse people who bought flights and hotel rooms for the weekend.
Like Just Jared Jr. on FB