Sun, 05 August 2018 at 7:27 pm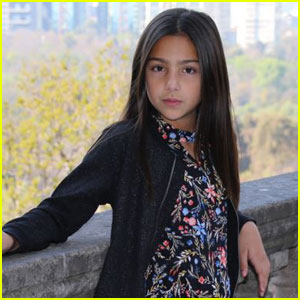 Aubrey Jkat is following in the footsteps of her famous mom!
The 11-year-old is an up-and-coming YouTuber, whose mom is beauty guru Jackie Hernandez!
Aubrey grew up watching her mom film YouTube vids, blog and launch her massively successful makeup line, so she decided to create her own channel!
Now Aubrey's creating a YouTube following of her own, where she talks beauty, slime and gives an inside look into her life!
Here's 10 Fun Facts you may not have known about her:
1. I used to love and do gymnastics, but now I want to be a singer and actor!
2. I know how to make pancakes.
3. I really like the movie Titanic.
4. I love love rollercoasters, but I'm affraid of heights!
5. People tell me a look like Ariana Grande sometimes.
6. I like airports and the experience of traveling. I want to visit Bora Bora one day.
7. I'm American with Costa Rican and Mexican roots. My dad is from Costa Rica and my mom is from Guadalajara, Mexico.
8. I consider myself a very friendly person.
9. My favorite Mexican candy are the obleas. So yummy!
10. My favorite apps are Instagram and Snapchat.
Like Just Jared Jr. on FB