Mon, 29 October 2018 at 12:32 pm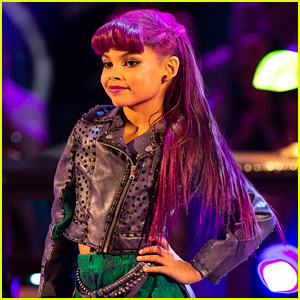 Ariana Greenblatt channeled her inner Mal with her Descendants 2 performance on Dancing With the Stars Juniors last night – and now she's telling fans all about what went on that night.
In her exclusive behind-the-scenes blog, the 11-year-old actress dishes on the tough practice for the Paso Doble and reflects on the judges' comments.
Trick or Treat Dancing with the Stars Juniors fans! Scary costumes, spooky dances, bobbing for apples and witches' brew. Now that's a Halloween night! Halloween is one of my favorite times of the year and this was my favorite costume! Shout out to the DWTS costume, hair and makeup teams for making me feel and look like Mal from Disney Channel's Descendants. I loved having bangs and coloring my hair magenta and when I saw that we were having a Halloween night, I immediately knew what song I wanted to do. Then they told us we were going to perform the Paso Doble, a hard Spanish dance style. I just knew I had to be WICKED!
The Paso Doble dance has the movements of a bullfight. The man is supposed to be the bullfighter and the woman is the cape. The costume department did such a good job making a cape skirt with my Mal outfit! It's an intense dance and that is exactly what Artyon and I performed.
The judges were really tough on us Sunday night though! The audience was not happy with what they were saying and gave the judges the first big BOO's of the season. I can't lie. I was shook! I felt really disappointed because I put so much love and hard work into this performance.
I really wanted to make my Disney Channel family proud because my "Stuck in the Middle" castmates and friend Kenny Ortega came out that night. He directed and choreographed Hocus Pocus, the High School Musicals, all the Descendants movies and Newsies! Thank you Disney Channel family for always supporting me and my dreams.
Last year, I hosted the premiere of Descendants2 and got to spend a lot of time with that wonderful cast, especially my friend Dove Cameron. I'm such a big fan of the Descendants and I really wanted to pay respect to Dove's character "Mal", the cast and Kenny so the judges' comments did sting but afterwards I was really motivated to come out super strong and aggressive for next week's "Juniors Choice."
I hope I can inspire other people to go out there and try something new. There will always be someone out there telling you that you can't do something or that you are not good enough. Don't listen!
Fun Fact: 26 years ago Kenny Ortega directed my Dad in the original Disney studio's feature film "Newsies." He played the villain Oscar Delancey!
Click inside for behind-the-scenes pics from Ariana!
Like Just Jared Jr. on FB