Fri, 02 November 2018 at 7:05 pm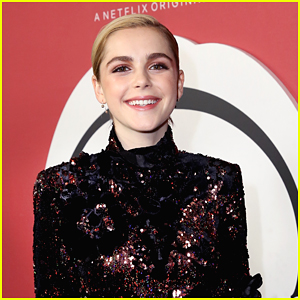 Kiernan Shipka has spoken about how she relates to Sabrina Spellman before, however, she's going into depth in a brand new interview.
Talking with Glamour about the iconic character she portrays on Chilling Adventures of Sabrina, the 18-year-old actress opened up about relating to Sabrina.
"I really love playing a character that's a little younger than me, to be honest," Kiernan shared. "Because even if it's just three years, I can bring perspective into it."
She continues, "I think Sabrina's intuition is really strong. I bring up the age thing because over time I've strengthened my intuition and knowing myself and what feels inherently right. I feel like Sabrina really has that, even more so than when I was 16."
Kiernan's own personal experiences have helped her play Sabrina throughout the first season.
"She questions what she doesn't think is right, and she doesn't do anything that doesn't feel right. That's a big thing in my life: going with your gut," she adds.
"If something isn't lighting the fire and making you excited, or if something feels wrong or doesn't agree with you, it should be questioned. It should be talked about. I really admire that Sabrina does that even in circumstances that are pushing her one way. She's all about the resistance."
Chilling Adventures of Sabrina is streaming now on Netflix.
Like Just Jared Jr. on FB