Fri, 23 November 2018 at 5:24 pm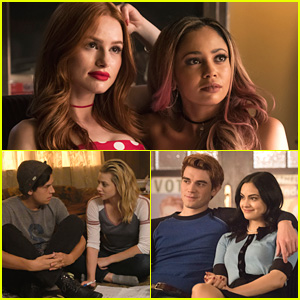 You may or may have not noticed, but the characters and couples on Riverdale have theme music.
It's not always playing the moment they enter the screen, but the theme and sounds are always with them, so says composer Sherri Chung in a new interview with Decider.
She calls Varchie's theme "the sweetest…There's something sweet, there's something sexy. I mean it becomes Archie['s theme], because there's something so wholesome and honest about him. The Varchie theme, there's something in there about Veronica's persistence, also about Archie's wholesomeness and his innocence."
And Bughead's theme is really Betty's theme: "[There's] a different kind of wholesome and goodness to Jughead and Betty. Betty to me, that's just like, cute."
However, Choni's theme is still in development because they're such a new couple.
"Choni doesn't have a theme yet," Sherri shared. "It's something that we haven't fully developed yet. We're still developing it, we're still seeing more of them."
She continued, "I think as we see more of them, we're trying to get a sense of who they are and where they're going and what they're doing… It's interesting to see how that's happening too, as the season goes on."
We can't until Choni really do have a theme associated with them.
Riverdale returns NEXT Wednesday, on The CW.
Like Just Jared Jr. on FB