Wed, 19 December 2018 at 1:27 pm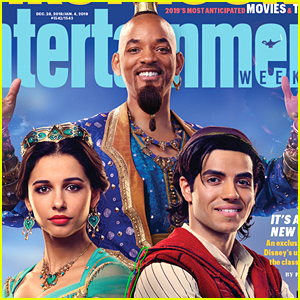 The genie is 100% not blue on the first look pic from Aladdin, which debuted on the cover of Entertainment Weekly.
However, he WILL be in the movie!
Portrayer Will Smith clairifed that the magical character will be the same iconic color of the animated character.
The first look pic is just the Genie is his human/disguise form.
"BAM!! First look at the Genie 🧞‍♂️, Princess Jasmine, and Aladdin! Check Me Rockin' the Top Knot Ponytail Vibes in Entertainment Weekly 😆 (and yes, I'm gonna be BLUE! 🙂 This is how the Genie is in Human / Disguise Form. My character will be CGI most of the movie.)" Will wrote on his Facebook.
Aladdin will hit theaters on May 24th, 2019.
Like Just Jared Jr. on FB