Thu, 27 December 2018 at 11:50 am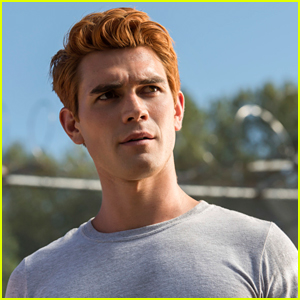 KJ Apa's hair has been the star of Riverdale this season – it went from red, to brown, and back again – and it's all fans can talk about.
The 20-year-old's character, Archie Andrews, dyed his hair dark after going on the run after his stint in juvenile detention.
"The dark hair is a good look," KJ told Teen Vogue. "I was stoked to have dark hair back but only for a couple weeks."
Showrunner Roberto Aguirre-Sacasa spoke to TVLine about the switch, and how KJ is handling the changes.
"That is a huge question motivating the next few episodes. I'm not even kidding you! It's a giant question. It's funny: KJ [Apa] called me and was like, 'Dude, do I really have to dye my hair back and forth, back and forth?'" he shared.
Roberto adds, "I was like, 'KJ, I don't know what to tell you, dude. We've gotta figure out a way to do it.' [Laughs] He was a real trouper about it."
KJ also spoke to Huffington Post about the color change – revealing that his hair is permanently orange now.
"It's been bleached," he says. "The only way for me to go back to brunet is if I grow my hair out, so they had to put a temporary mousse in it for the scene. Mate, the amount of sh** that has been put in my hair is unbelievable."
KJ added, "I wouldn't be surprised if I go bald in a couple years. They used to do my eyebrows, but I told them no more dying my eyebrows."
Like Just Jared Jr. on FB