Mon, 31 December 2018 at 6:30 pm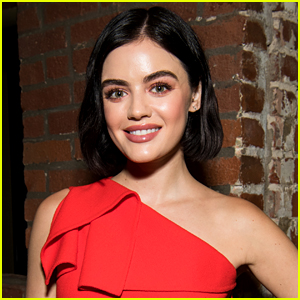 Lucy Hale is really looking forward to her hosting duties for tonight's Dick Clark's New Year's Rockin' Eve 2019 from New Orleans.
Speaking with Parade recently, the 29-year-old actress admitted that she was actually really nervous her first time hosting back in 2015.
"Everyone involved with the show just made me feel super comfortable, and I love New Orleans," Lucy says of returning for the event. "I love to go there anytime, but there's something really special about being there during New Year's."
She continues, "There's a lot of good energy, good people, everyone's there to have a good time. I love the thrill of not knowing what's going to happen. Because I'm an actress, I'm used to rehearsing, and getting a million takes to make things right. But, obviously, with live TV it's a little different, so you can prepare, but things always change last minute, and it's actually a really exciting feeling, so I'm excited to see what happens this year."
Lucy also opens up about her usual New Year's plans: "I'm always with my family."
"I moved to Los Angeles when I was 15, but I've always made it a habit to go home all the time, including the holidays. We don't really have any traditions, but it's always spent with my favorite people, which is my family," she says. "And even now, when I come to do this New Year's show in New Orleans, they'll follow me down, because it's really not that far from where I'm from [Memphis, Tenn.]."
"For me, staying up past midnight at this age that I'm at, is very difficult, because I'm usually in bed by nine, so, if I can make it past midnight, that is a good feat."
If you missed it, check out the full performer lineup for the event on JJJ now!
Like Just Jared Jr. on FB